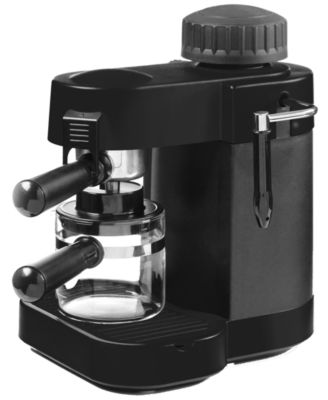 Summary:
Bella 13683 Espresso Maker single serve electric. Retail price is $59.99, on sale for $17.99 at Macy's with current sale and coupon code "YH89W". $9.99 mail in rebate. Use Macy's card for more savings. Shipping is $10, but free shipping available on purchases of $50+. Rebates on other appliances (waffle maker, deep fryer, electric skillet, slow cooker) instead of this one available; check the rebate terms for details.
You Pay: $17.99
Rebate Amount: $9.99
Price After Rebate: 8
Sold By: Macys
This rebate offer has expired.
Retailer's Description
Bella 13683 Espresso Maker A café experience. Treat your tastebuds to the brilliance of this at-home barista, which makes it easy to brew your favorite cappuccino or espresso and then top it off with steamed milk. 1-year warranty. Model 13683.
Steam wand for heating and frothing
Weight: 4.85 lbs.
Measures 9.75″ x 9″ x 11.5″
Savings may not be based on actual sales
Imported
Web ID: 721875
This rebate must be purchased by Sunday October 4th, 2015.
Rebate Terms & Conditions
Rebate Limit: 1 rebate(s) per household
Offer Expiration: October 4th, 2015
Submission Deadline: 30 days from date of purchase
Fulfillment Time: 56 days from date of submission
Subscription Required: No
Rebate Form: Click Here
Comments
Example
Example2
Example3
Example 2