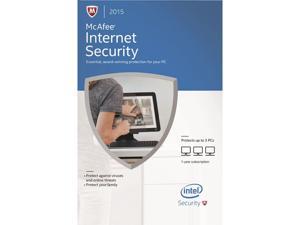 Summary:
NewEgg is offering McAfee internet security software and a $5 NewEgg giftcard for $60. Save $15 with promo code EMCKAAV24. Rebate is $45, so its free after rebate and effectively a $5 money maker. Shipping is free with shoprunner, otherwise its $2.99.
You Pay: $45
Rebate Amount: $45
Price After Rebate: 0
Sold By: Newegg
This rebate offer has expired.
Retailer's Description
Anti-Virus Protection
Optimize PC's performance
WiFi Protection
Site Advisor
NetGuard
Parental Controls
This rebate must be purchased by Thursday October 15th, 2015.
Rebate Terms & Conditions
Rebate Limit: 1 rebate(s) per household
Offer Expiration: October 15th, 2015
Submission Deadline: Send by November 15th, 2015
Fulfillment Time: 70 days from date of submission
Subscription Required: Yes (see description)
Rebate Form: Click Here
Comments
Example
Example2
Example3
Example 2