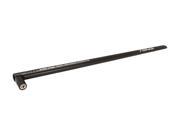 Summary:
Omni High Gain Antenna for $15 at NewEgg. Get $15 rebate card. Shipping is $2.99.
You Pay: $15
Rebate Amount: $15
Price After Rebate: 0
Sold By: Newegg
This rebate offer has expired.
Retailer's Description
The WL-ANT191 is Omni High Gain Antenna provides more power and larger coverage range for wireless networking. For greater flexibility in placement, the WL-ANT191 is accompanied by a magnetic based with 1.5m extension cable. It can be used with ASUS 2.4GHz access points, routers, and client cards with RP-SMA connectors. 360° Coverage Extension: Stronger signal increases wireless coverage to hard-to-reach areas. Increase the strength of outgoing signals and sensitivity for signal reception. Cost Effective: The high-gain antenna saves wiring costs for building corporate wireless infrastructures by driving stronger signals to all corners. Easy to Install: Just unscrew your current antenna, and attach the high-gain antenna in its place.
This rebate must be purchased by Wednesday November 4th, 2015.
Rebate Terms & Conditions
Rebate Limit: 1 rebate(s) per household
Offer Expiration: November 4th, 2015
Submission Deadline: 30 days from date of purchase
Fulfillment Time: 70 days from date of submission
Subscription Required: No
Rebate Form: Click Here
Comments
Example
Example2
Example3
Example 2