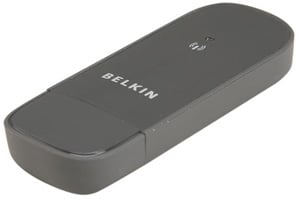 Summary:
NewEgg is selling the adapter for $10 minues $5 promo code (EMCKNAP38) minus $5 rebate = FREE!
You Pay: $5
Rebate Amount: $5
Price After Rebate: 0
Sold By: Newegg
This rebate offer has expired.
Retailer's Description
Connect your laptop or desktop computer to your wireless network.
Easy Setup
Connect your computer to your modem or router without any cables. Simply insert the setup CD, run the software setup and plug the adapter into a USB port on your computer, and you're ready to connect to the Internet from anywhere in your home.
Speed
Get wireless speeds ideal for surfing, emailing and instant messaging – up to 150Mbps.*
Simple Security
WEP and WPA/WPA2 security protocols and Wi-Fi Protected Setup (WPS) let you configure and secure your connection.
Backward-Compatible
Backward-compatible with 802.11g devices at 54Mbps and 802.11b products at 11Mbps, the N150 Wireless USB Adapter can connect to older wireless networks and hotspots as well as newer 802.11n networks and wireless-N devices that offer increased range and speed.
This rebate must be purchased by Wednesday December 9th, 2015.
Rebate Terms & Conditions
Rebate Limit: 2 rebate(s) per household
Offer Expiration: December 9th, 2015
Submission Deadline: 30 days from date of purchase
Fulfillment Time: 70 days from date of submission
Subscription Required: No
Rebate Form: Click Here
Comments
Example
Example2
Example3
Example 2