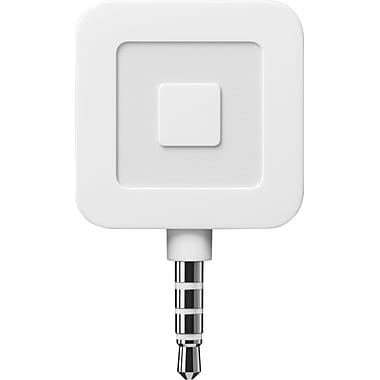 Summary:
Get a Square credit card reader for your smart phone for $9.99 and get $9.99 credit when you sign up with Square. It charges 2.74% for taking credit cards. You can also get a free reader mailed to you by signing up directly on their website. Click on the Rebate Form Link.
You Pay: $9.99
Rebate Amount: $9.99
Price After Rebate: 0
Sold By: Staples
This rebate offer has expired.
Retailer's Description
Square Credit card reader offers easy/quick way to accept payments and is designed to use with Apple iPhone, iPad and iPod touch and most Android devices.
The Square credit card reader lets you accept credit card payments on your Apple iPhone, iPad, iPod touch or Android device and features a headphone jack interface for easy installation. Start accepting all major credit cards anywhere, anytime, on your iPhone, iPad or Android device. Only 2.75% per swipe. No hidden fees, no contract to sign, no merchant account. Just swipe and you're in business.
Receive $10 instantly when you activate your Square account
Designed for use with Apple iPhone, iPad and iPod touch and most Android devices (requires iOS 4.0 or later or Android 2.1 or later for wide range use)
Fits Apple iPhone and select iPod models, Smart-phones with Android based OS Models
Lets you accept credit card payments
Automatic daily bank deposits
Plugs into a headphone jack (3.5mm input)
Compatible with iPhone, iOS, and Android Brands
Dimensions 1-3/4″ (H) x 9/10″ (W) x 1/2″ (D)
Square Card Reader and Owner's manual included
This rebate must be purchased by Saturday December 31st, 2016.
Rebate Terms & Conditions
Rebate Limit: 1 rebate(s) per household
Offer Expiration: December 31st, 2016
Submission Deadline: 30 days from date of purchase
Fulfillment Time: 60 days from date of submission
Subscription Required: No
Rebate Form: Click Here
Comments
Example
Example2
Example3
Example 2